MULLINER'S METAL PEDAL
The new metal pedal with anti-slide surface design is the exact replica of the Bentley Mulliner gas pedal.

WHEELS
The tricycle's wheels follow Bentley Mulliner GT wheel design to a tee. Equipped with branded logo in the middle of the disk surrounded by the "Bentley Mulliner" sign and the wheel-center cap ensures the "B" badge is always in the motionless upright position, even when the tricycle is riding!

PAINTING
The color on the tricycle's frame comes from Bentley palette's color, White Sand. The White Sand paired with beige fiber, black faux leather and black dull details are all inspired by the interior of a Bentley Mulliner.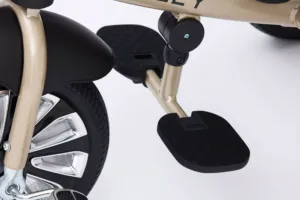 FOOTRESTS
The Double Diamonds stitching symbolizes the brilliant facets, a remarkable element of Mulliner design. We use this design pattern in the new 2023 Bentley Tricycle model on foldable footrests for older children.

ADDITIONAL FOOTRESTS
Also designed in Bentley Mulliner "Double Diamonds stitching" style of portable footrests model for little toddlers

NEW LEVEL-UP PARENT BAG
Thoughtfully manufactured for the Bentley Mulliner Tricycle with best-in-class faux leather and handmade "Double Diamonds" stitching. This bag keeps the form, equipped with a magnetic buckle and "Bentley" badge on the metal pad.

BRAND NEW FIBER SEAT
We have developed a new seat fiber pad, specifically for this model. Model simulates the car seat and ensures extra-comfort for your child's ride. Design follows one of Mulliner's unique elements, Double Diamonds handmade stitching that you would see in a Bentley car. The Bentley badge is stitched on the soft headrest.

BENTLEY BADGE BUCKLE
The up-to-date "Bentley" labeled magnetic buckle combined with the elastic 5-point belt ensures optimal safety and trust from one hand and the simplicity of usage from another.

CROSS-STITCHING ELEMENTS
In an effort to keep one of the most noteworthy benefits of the previous model's exterior, there are handmade cross-stitching leather inserts on the handlebar grips, safety guard, and parent remote control.

STAGE 1  – 10 MONTH +
A seat with a 180-degree rotation and accessory toddlers' footrests ensures a safe, comfortable tricycle for children as young as 6 months.

STAGE 2 – 12 MONTH +
The backrest tilt can be adjusted to 2 positions while the height of the parent ride control handlebar may be adjusted as well.


STAGE 3 – 18 MONTHS +
A waterproof canopy protects your little one from the rain, extreme wind and harsh sun rays.


STAGE 4 – 24 MONTH +
The canopy folds in 2 positions with different deflection angles. When necessary, the accessory footrests and canopy can be removed effortlessly.


STAGE 5 – 36 MONTH + 
Highly recommended to remove the tricycle canopy and parent handlebar and replacing the parent handlebar with the protective rubber plug. This will enable your child to ride independently.


STAGE 6 – 42 MONTH + 
Another recommendation is removing the backrest, safety belts, footrests, safety guard and trunk from the tricycle. This will ensure your older little one can ride comfortably.
Minimum age 10 – 72 month
Product weight (without box) 13 kg. / 29 lb
Product size (without box) 126x53x104 cm
Minimum height 70-110 cm
Max weight 25 kg/ 55 lb
Headrest yielding soft headrest with stitched Bentley badge
Rear brake yes
Seat belt 5-point equipped with magnetic buckle
Wheel fenders yes
Basket with cover yes
Footrests basic (foldable) + accessory portable (for infants)
Used materials IRON, PVC, PP, ABC, TPR
Parent ride control handlebar height adjustable, 2 position
Wheel diameter 12 inches (front wheel) 10 inches (rear wheels)
Foldable canopy 2 position
Adjustable back support 2 position
Free handle bar function yes
Freewheel function yes
Storage bag compact, removable
Seat cover removable and machine washable
Seat rotating function 180 degrees